CLAM PRO STAFF


Meet the team


Dave Genz
St. Cloud, MN
Dave is known as "Mr. Ice Fishing" & is credited for leading us into the modern era of ice fishing. Dave was added to the Freshwater Fishing Hall of Fame in 2011. Dave has influenced most of the ice fishing designs & concepts every time we hit the ice, most notably CLAM's Fish Trap shelters.
www.davegenz.com








Dave Genz


Matt Breuer
Bemidji, MN
Matt is a professional fishing guide and the owner of North Country Guides and Promotions. Matt's versatility on the ice has allowed him to consistently catch trophy fish in all species. He also appears in many publications, both cited and as an author.
www.northcountryguides.com


Matt Breuer


Terry Tuma
Montgomery, MN
Terry is a member of Freshwater Fishing Hall of Fame and has literally countless hours of ice fishing educational resources under his belt. Terry also has a weekly radio show where he shares his tips and experiences with other ice fishing die hards!
Terry Tuma


Chase Parsons
Denmark, WI
Chase is a professional walleye angler and a co-host of Next Bite TV. Chase maintains the title as the youngest full-time walleye angler in the world and consistently earns top finishes throughout the walleye circuits.
www.thenextbite.com



Chase Parsons


Rod Woten
Stuart, IA
Rod is a professional ice angler and accomplished on-ice tournament angler. Rod has many top finishes in tournaments across the ice belt and has fished in most states where ice fishing is available.
www.coldwaterguiderservice.com



Rod Woten


Scott Brauer
Gasport, NY
Scott is a professional angler and owner of Maki Plastics. Scott spends a lot of time traveling the ice belt promoting the great sport of ice fishing. It's not uncommon to see an appearance from Scott at most ice fishing venues.
www.makiplastics.com


Scott Brauer


Tim Moore
Portsmouth, NH
Tim is a professional fishing guide and outdoor promoter. You will see Tim chasing down just about every species that swims and you won't have to ask him any of his secrets—because he is constantly sharing them! Tim continues to blaze new ground and has a ton of exciting winter stories.
www.TimMooreOutdoors.com


Tim Moore


Craig Oyler
Rapid City, SD
Craig is a professional guide and promoter who spends a lot of time chasing fish throughout the Black Hills and western part of South Dakota. Everything from inland trout to panfish to monster pike! Craig also travels the ice belt and you'll see him at most ice fishing events promoting the sport he loves!
www.iceaholicsanonymous


Craig Oyler


Mark Stevens
Watertown, SD
Mark fishes in two different circuits, the UPL & Team Extreme Ice Fishing - where he finished as "Team of the Year". Marks passion for ice fishing is not only in the competition, but in teaching & educating new-comers to the sport. He believes in "paying it forward" as he was taught from some of the best teachers in the sport.


Mark Stevens


Tony Mariotti
Detroit Lakes, MN
Tony is a well versed fisherman & outdoor educator who is willing to share the most current local tips & tricks. Living in the heart of Minnesota's Lakes Country there's never a shortage of lakes to explore. A frequent guest on Jason Mitchell Outdoors & KFAN outdoors "Trap Talk".
Tony Mariotti


Garett Svir
St. Cloud, MN
Garett Svir is a freelance outdoor writer and the owner of Slab Seeker Guide Service. His specialty is chasing down big Central Minnesota bluegills but his true passion is teaching others how to become more successful anglers on both the hard and soft water.
www.slabseekerfishing.com


Garett Svir


Pete Hupf
Beaver Dam Lake, WI
Pete grew up on Beaver Dam lake in WI from a renowned fishing family. Pete started collecting bait and fishing by age 4. It carried on to Best Dam Bait and Guiding in Beaver Dam WI. Pete guides Summer and Winter fishing trips for all species. Tournament fish in WI and Nationally NAIFC (3rd in 2014) (2nd in 2015).



Pete Hupf


Mike Kuna,
Mercer PA
Avid ice and open water fisherman. Cofounder of the Keystone Crappie Association. Along with my cousin and fishing partner, we have won several ice fishing and open water tournaments. We have traveled all over the ice belt from Minnesota to Vermont. I also enjoy doing fishing seminars, introducing other anglers to ice fishing and helping other fisherman find and/or catch more fish while on the ice. My favorite part of ice fishing is tracking down schools of large crappie.


Mike Kuna


Jarrid Houston
South Range, WI
Jarrid is a professional Fishing Guide, promoter, and educator for the sport of fishing. Jarrid specializes in ice fishing and owns and operates Houston's Guide Service. Jarrid fishes the twin-ports areas of Duluth/Superior and NW Wisconsin. www.houstonsguideservice.com


Jarrid Houston


Mike Riley IA
Mike is an accomplished ice tournament angler and professional ice angler. Mike has top place finishes in countless tournaments in all of the upper Midwest states, including his home state of Iowa. Mike enjoys targeting several species of fish across the ice belt each year. Mike also travels to multiple states annually to promote the great sport of ice fishing and gives seminars to pass on his knowledge of ice angling. Mike is the Committee Chairmen and leader for a local Boy Scout troop where he is able to promote, guide, and influence future leaders and outdoorsmen.


Mike Riley

Rick Johnson
Bigfork, MN
Rick has been with Ice Team since Day 1 and has a huge presence and credibility across the ice belt. Rick has many ice fishing titles to his name and is seen as one of the "faces" of ice fishing. Rick is always eager to share his wealth of knowledge with others.
Rick Johnson


Scott Seibert
Oak Grove, MN
Scott is a professional fishing guide and a leader in outdoor promotions. Scott is another one of the original Ice Team Pros who has several ice fishing tournament wins under his belt. Scott spends a lot of time mentoring the youth of our spot.
www.sksguides.com


Scott Seibert


Chris Granrud
International Falls, MN
Chris has fast-become one of the more accomplished ice fishing guides in Northern MN. Chris guides the great Rainy Lake and you can expect to see some monster fish pictures of Chris this winter! Not only does he land a lot of big fish, but he truly enjoys educating others and ensuring that they have a great time on the ice!


Chris Granrud

Jeff Andersen
Baxter, MN
Jeff is a professional fishing guide and the owner of Leisure Outdoors. Jeff appears regularly on the In-Fisherman TV and is a very accredited multi-species angler. Expect to see Jeff holding some monster pike this season! www.leisureoutdooradventures.com
Jeff Andersen


Keith Kavajecz
Kaukauna, WI
Keith is a professional walleye angler and a co-host of Next Bite TV. Keith is a "Legendary Angler" inductee into the National Fresh Water Fishing Hall of Fame and has been featured in about every major fishing publication in existence.
www.thenextbite.com


Keith Kavajecz


Zippy Dahl
Devils Lake, ND
Zippy is a professional fishing guide and the founder of the famous Perch Patrol guide service out on Devils Lake. Zippy spends just about every day on the ice and brings unmatched on-ice experience to the team.
www.perchpatrol.com or www.perchexpress.com


Zippy Dahl


Tod Todd
Kingston, IL
Tod is a professional ice angler and promoter. Tod has competed in several top ice fishing tournaments with outstanding results. You can also expect to see Tod appear on several different TV segments across Illinois.
www.Midwestangling.com


Tod Todd


James Vladyka
Bensen, VT
James is a professional fishing guide and promoter. James is one of the go-to on-ice talents in the Eastern part of the United States and is responsible for leading a lot of the efforts in that area.
www.fishhoundsoutdoors.com or www.vtsportsman.com


James Vladyka


Don Cox
Mullen, NE
Don has been a long-time member of Ice Team; in fact, he roots back to the beginning of Ice Team as a fishing partner to Dave Genz when in Nebraska. Don has some of the largest panfish at his fingertips and you can bet you'll smile when you hear his reports and see his pictures!


Don Cox


Mike Raetz
St. Cloud, MN
Mike is a professional angler and guide for Leisure Outdoor Adventures and also competes on the NAIFC and UPL with top finishes in both. He loves open water but his true passion is on ice chasing big panfish on many lakes in Central and Northern MN.
www.leisureoutdooradventures.com


Mike Raetz


Tony Groskreutz
Minnetrista, MN
Tony has been an avid outdoorsman for 40+ years. He especially enjoys chasing big Walleyes, Trout, and Perch in the winter. Tony has always been a student of the outdoors and will continue to look for what's next. You can find more info on Tony on Facebook at Get Outdoors Marketing.
Tony Groskreutz


Dan Kiazyk
Minnedosa & Selkirk , MB
Dan is the owner and operator of Cat Eye Outfitter for 17 years and resides in Minnedosa & Selkirk Manitoba, Canada. He specializes in fishing for trophy channel Catfish & Walleye on the Red River and Lake Winnipeg. When not guiding, he is writing fishing articles or hosting seminars.
www.cateyeoutfitter.com
Dan Kiazyk


Boomer Stelmach
Maple Grove, MN
Boomer is a passionate Outdoorsman for the last 20+ years and works in various Outdoor Media Channels. Besides hosting the weekly Hunting/Fishing Radio show "The Ticket Outdoors" on Ticket Sports Radio 105FM, he also founded the Outdoor Promotions company Heres My Gear.
www.heresmygear.com


Boomer Stelmach


Mike Howe,
Mercer PA
Mike Howe, Kalispell, MT

Mike is an Outfitter, Guide and Educator. He created the Perch Assault and Ice Duels tournaments and won the 2017 NAIFC Qualifier in Montana. When guiding in MT and ID, big Lake Trout and big Perch are his specialty but Mike enjoys chasing "red lines" on his Vexilar every year across the Ice Belt. www.howesfishing.com"


Mike Howe

Jason Durham
Park Rapids, MN
Jason is a professional fishing guide and a national fishing educator. Jason is sought out as one of the best teachers in the sport of fishing. He has also written many publications on freshwater fishing. www.go-fish-guides.com
Jason Durham


Shelly Holland
Oak Grove, MN
Shelly is a professional angler and promoter who has been teaching others how to ice fish for years. A regular seminar speaker, Shelly excels at relaying her fishing knowledge onto others. Always someone who is smiling and willing to lend a helping hand! Outdoor adventure is a natural part of her everyday life, white water rafting, jet ski racing and skydiving are just some of her adventures. She believes strongly that the more fear you conquer the less power it has! Recently.
www.sksguides.com


Shelly Holland


Jim Kusuda
Madison, WI
Jim is a professional angler and promoter. Jim also frequents the competitive ice fishing scene where he has established himself and a top tournament angler. You can also see him appear as the kid's instructor for most of the events he participates in.


Jim Kusuda


Pete Maina
Hayward, WI
Pete is a professional muskie and pike angler and a co-host of Next Bite TV. Pete is North America's number one authority on muskie and pike fishing and is internationally known for his prowess with muskie and northern pike.
www.thenextbite.com or www.petemaina.com


Pete Maina


Dennis Kassube
Big Stone, SD
Dennis is a professional angler and promoter. Dennis has spent countless hours chasing fish across Minnesota and South Dakota. His knack for fishing a wide-array of lake types makes him one of the more versatile ice anglers in the game today.
Dennis Kassube


Bernie Keefe
Grandby, CO
Bernie Keefe has been guiding in the Lake Granby area of Colorado for over 25 years. Specializing in trophy Lake trout but he is equally passionate about Rainbows, browns and salmon. Bernie would rather take someone fishing then go fishing himself, teaching is the cornerstone of "Fishing with Bernie".


Bernie Keefe


Jason Hamilton
Winnipeg, MB
Jason is a professional angler and Lake Winnipeg expert. Jason has mastered the big waters (or ice) of Lake Winnipeg—seen as one of the top current destinations for ice anglers—and spends a lot of time teaching others about his successful ways.
www.jasonhamiltonoutdoors.com


Jason Hamilton



Brandon Ouellette
Havelock, ON
Brandon is a professional guide who knows what big walleyes look like! He spends most of his time on Bay of Quinte where he enjoys providing others with that "once in a lifetime" experience of landing a truly monster walleye!
www.quintehardwaterspecialists.com


Brandon Ouellette


Tommy Hicks
Ashlasd, WI
Having grown up on Lake Superior fishing and boating my whole life it was always a dream of mine to be a fishing guide/captain. I've always enjoyed getting clients on the ice/water and teaching them not only how to be successful, but to do it safely.
www.beyondthecatch.com


Tommy Hicks


Matt Cornell
Garrison, MB
Matt is a professional fishing guide and angler & owner of Bruin Outfitting and Guide Service.
He spends his time chasing a variety of fish species across Canada from north western Ontario to the Northwest Territories. When he's not on the water, he enjoys writing articles & instructing.
www.bruinoutfitting.com


Matt Cornell


Jon Sibley
Ironwood, MI
Jon is a professional ice fishing guide that guides Lake Gogebic and several other lakes. He loves to chase Jumbo Perch and teach ice fishing and promote the sport.
www.fishwithguy.com



Jon Sibley


Matt Peters
Big Lake, MN
Peters is a world-class professional angler and has a long running passion for outdoors, with ice fishing being not only a passion but a way of life. Matt has made his living in the fishing industry for 15+ years. He continues to operate www.fishwithmatt.com and always has good tips and info during the ice season.


Matt Peters

Doug Wegner
Oconomowoc, Wi
My name is Doug Wegner I am 21 years old and live in southeast Wisconsin. I'm a multi-species angler and love to chase my passion in my boat and on the ice all over the Midwest and Canada. I have been fishing for as long as I can remember and don't plan on stoping. I also love to bow hunt, and waterfowl hunt. I work as an operating engineer along with being a part time camera man for the tv show fishing with Joe Bucher.
Doug Wegner


Chuck Fritz (aka Macho Nacho)
Manchester, NH

Professional fishing guide, outdoor promoter, and teacher.

Chuck is a licensed NH fishing guide. He guides ice fishing clients from around the world on Lake Winnipesaukee with Tim Moore Outdoors. He is also an instructor for the New England Ice Fishing Academy and the NH Let's Go Fishing Program. Chuck's true passion is teaching and helping others catch more fish, but when he isn't teaching he can usually be found fishing.



Chuck Fritz


Jason Mitchell
Devils Lake, ND
Jason is a professional angler and guide who also hosts the "Jason Mitchell Outdoors" television show. Jason has established himself by guiding in the summer along with the famous "Perch Patrol" on Devils Lake in the winter.
www.jasonmitchelloutdoors.com


Jason Mitchell


Joe Jackson
Spring Lake Park, MN
Joe has been around the ice belt and back—more than once. He has fished—and won—many top ice fishing tournaments and now you can see his face at most ice fishing shows/events passing on his knowledge to others.
Joe Jackson


Gary Parsons
Glidden, WI
Gary is a professional walleye angler and a co-host of Next Bite TV. Gary is the only person to have won "Angler of the Year" titles in three open Professional Walleye Circuits and is arguably one of the best walleye anglers on the planet.
www.thenextbite.com



Gary Parsons


Chuck Mason
Ida, MI
Chuck is a professional angler and guide across many large bodies of water. Chuck is also a well-known on-ice tournament angler who has many Championship appearances under his belt. www.blogsmonroe.com/fishing


Chuck Mason


Kevan Paul
Clear Lake, IA
Kevan is a professional fishing guide and promoter. Kevan spends a lot of time giving seminars and targeting fish across the expansive array of Iowa's glacial lakes. It's not uncommon to find Kevan appearing on a TV show, sharing his knowledge with the ice fishing world.
www.paulsfishingguide.com


Kevan Paul


Nate Zelinsky
Conifer, CO
Nate is a professional fishing guide and ice fishing school instructor. Nate is the owner of Tightline Outdoors, where he not only offers year-round guide trips but also caters to the largest on-ice school in Colorado.
www.tightlineoutdoors.com


Nate Zelinsky


Ross Robertson
Toledo, OH
Ross is a professional angler and educator. Having written many articles—and now books—Ross has fast-become one of the country's top-authorities on big water walleye. Ross spends a lot of time chasing big fish on Lake Erie and brings a lot of skills that he's always willing to share.
www.Bigwaterfishing.com


Ross Robertson


Cory Yarmuth
Villa Park, IL
Cory is an award winning author for several publications in print and online. He's had a fishing rod in his hand for over 36 years. It is his goal to bring his experience and ideas to the public and allow him to teach others about the world of fishing and the outdoors. He is also the owner of Legend Outdoors.


Cory Yarmuth


Barb Carey
Oxford, WI
The Founder & President of WI Women Fish and has been teaching Ice Fishing classes to women for over 10 years. Barb is an award winning author & the voice of Wild Barb on the Great Wild Radio Show. She is also an active member of the WI Fisheries Advisory Council.
http://www.podcastgarden.com/podcast/thegreatwildradioshow.


Barb Carey


Jay Vassil
Endicott, NY



Jay Vassil


Jean-Paul Tessier
Baudette & Oak Island, MN
The first memory I have, is fishing with my Father & Grandfather on Rainy Lake when I was 3. With the love of being on the water, it has shaped the man I have become. During hard water, I'm HQ'd out of Baudette & run a Sleeper Ice Fishing business, along with portable ice fishing shelters.
www.lakeofthewoodsoutdoorsman.com


Jean-Paul Tessier


Dylan Smith
Northfield , VT
Growing up in central Vermont, my roots are in bass and trout fishing. Now, I am a multi species angler with my main focus on panfish. I cover much of New England during all seasons in search of a new water and better bites. I have been giving seminars, writing articles, and blogging my experiences for the last several years.


Dylan Smith

Dennis Musgraves
North Pole, AK
Avid "Far North" angler, outdoor writer, and sport fishing advocate who has been ice fishing all over Alaska the past 15 years. www.alaskansalmonslayers.com
Dennis Musgraves


Scott Mackenthun
New Prague, MN
Scott is a fisheries biologist and outdoor writer with a passion for ice fishing and passing along his knowledge. When not taking trips to his favorite ice fishing destinations, Scott pens a few monthly newspaper columns across Minnesota as well as freelance writing for various publications. He passes on his love for the outdoors through print media, seminars, and kids clinics.


Scott Mackenthun


Jim Murphy
Brooklyn Park, MN
Multi-species guide in the Leech Lake area. Passion is hunting the apex predator the mighty Muskie. 43 years experience fishing Leech Lake and surrounding waters.


Jim Murphy


Kirby Budrow
Chisholm, MN
A Forester with the Minnesota Department of Natural Resources, and muskie guide from Northern Minnesota, Kirby Budrow makes muskie dreams come true, one 50 incher at a time. He specializes in teaching folks how to catch giants day or night, and offers affordable muskie guide trips in northern and central Minnesota. Kirby says, "it only takes one bite to change your life, so never give up"!


Kirby Budrow


Dom Baker
Watertown, WI
My name is Dom Baker I live near Johnson Creek, Wi. I have a obsession with musky fishing ever since I spent a summer working at Sunset Lodge on Lake of the Woods. After returning home from that summer I bought a boat and furthered my knowledge on the elusive musky. There is nothing I enjoy more than spending my time chucking bucktails for the fish of 10,000 casts.


Dom Baker


Timmy Peterzen
Otsego, MN
A resident of Minneapolis, MN, Timmy is an avid accomplished muskie angler who focuses his efforts chasing the giants of Lake Vermilion. He also spends his time sharing his passion for the outdoors through published articles and live seminars.


Timmy Peterzen


Jeremy Baalke
Tomahawk, WI
Jeremy has a large roll in helping develop new lures at Bigtooth Tackle. He played a big part in making the JUICE Bucktail Series a reality. He has attention to detail and a passion for the challenges that musky fishing provides.


Jeremy Baalke


Kevan Paul
Clear Lake, IA
Kevan Paul has been fishing Iowa and the Midwest his whole life and over the last few years he has grown a true passion for the chase. The case for that fish of a life time. Muskie fishing in Iowa has been growing in popularity and a major part of that is because the Iowa DNR. They have been doing some heavy stocking to help sustain the Muskie population. Kevan guides on Clear Lake IA which is Iowa's top Muskie fishery. Visit his website www.paulsfishingguide.com or call 641-529-2359 for more details.


Kevan Paul

Jeff Andersen
Baxter, MN
Host of Across the Ice Belt with Ice Team and Andersen Brother's Outdoors Films. Jeff is a fishing guide in Northern Minnesota, Co-Owner of Bigtooth Tackle and RAWfish Media. Jeff has been credited with catching one of the largest muskies on In-Fisherman TV and featured on many other shows. His passion for making people better anglers is shown through his work in the industry.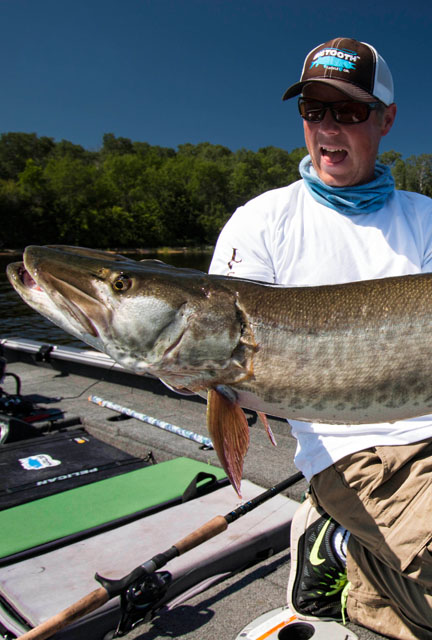 Jeff Andersen


Jean-Paul Tessier
Baudette , MN
Lake of the Woods is known for being one of the best Muskie fisheries in the world, and I am blessed to call this amazing area home. With the opportunity to fish on a daily basis, our Million Acre playground is getting smaller and smaller to this avid outdoorsman. Over the past 5 years I've had the honor of sharing my knowledge of the fishery with new and old friends alike. Will you be along for the next adventure?


Jean-Paul Tessier


Josh Kragthorpe
Grand Rapids, MN
For the past 15 yrs. Josh has been spending his time chasing monster muskies and Pike year-round in northern MN and Canada. He is also a Muskie guide for Leisure Outdoor Adventures, providing quality trips in northern MN.


Josh Kragthorpe


Will Dykstra
Castle Rock, CO
Will Dykstra is the senior Preadator Guide for Tightline Outdoors in Colorado. Will has a passion for Big fish which includes chasing Muskies on the Canadian Shield and Minnesota and guiding full time for trophy Northern Pike in the Colorado high country where the KLACK is staking its claim.
Will Dykstra

Brian Truax
Bemidji, MN
Brian Truax has been musky guiding the Bemidji / Cass Lake / Leach Lake area since 1994. Some of the top musky fisherman of today have caught their largest musky in Brian's boat. His collection of over 50's on his wall of fame is something to see. Known for his power fishing of bucktails, he is an expert of blade size, single vs double, feel of vibration, and speed of retrieval. He states " I would never leave the dock with out my Juice and Klack baits".
Brian Truax

Joe Andersen
Bemidji , MN
With an extensive background at an early age, Joe has become a known TV Producer and Media specialist in the outdoor industry. From camera operation to post production editing, Joe has a great knowledge of anything behind the camera and works direct with Bigtooth Tackle in their production. Not only is he a production geek, Joe has a known background in Musky fishing with many top place finishes in the Professional Musky Tournament Trail and a first place finish in the Worlds Largest Musky Tournament.


Joe Andersen


Tim Moore
Portsmouth, NH
A native of New Hampshire and a full time fishing guide. During New Hampshire's open water months, Tim is most known for chasing big fish from kayaks with his clients. Ever since being bitten by the toothy-critter bug, he has been obsessed with finding and catching the biggest northern pike that New England has to offer.

"My success as a professional angler and guide depend on being surrounded by good people and quality products. For that reason Bigtooth Tackle is a no-brainer. They make the ultimate big fish baits. I'm proud to be part of Bigtooth Nation."


Tim Moore


Mark Stock Jr
Coon Rapids, MN
Mark stock works as a journeyman electrician for Muska electric when he's not fishing. Mark honorably served his country in the Army for 8 years and has served overseas in Iraq. Mark has been holding a rod and reel since he was a small child. Fishing is truly a passion of his and he loves passing that along to others. Being apart of the Bigtooth team is a dream of Mark's. He has truly learned to Love The Chase and embrace not only catching fish, but enjoying everything that goes along with it. Living those words and being apart of such a great group of guys he calls family has made Mark the fisherman he is today.


Mark Stock Jr

John Hoyer
Orono, MN
Muskie Guide from Minnetonka , fishes the most pressured lakes in the state, and continues to put his clients on some of the biggest muskies MN has to offer.
Many top tens on the PMTT and Minnesota Muskie Tournament trail.
My favorite way to catch a muskie is on the figure 8, it is the epitome of triggering a freshwater fish.
John Hoyer